London has been basking in glorious sunshine again today and although I was working I managed to enjoy my lunch outside. There is a downside to the heatwave as it has caused wildfires on the moors near Manchester. I know someone has been charged with arson for starting one of the fires but that doesn't help to deal with it and hopefully stop it setting fire to homes. The picture is courtesy of Sky News. You can read more here Whilst homes have been evacuated it is the smoke that seems to be causing the most problems and a major incident has been declared. The army has been drafted in to help the fire fighters bring the fires under control. The fires are currently burning in several locations. My thoughts and prayers are with those fighting the fire and the families whose homes are at risk.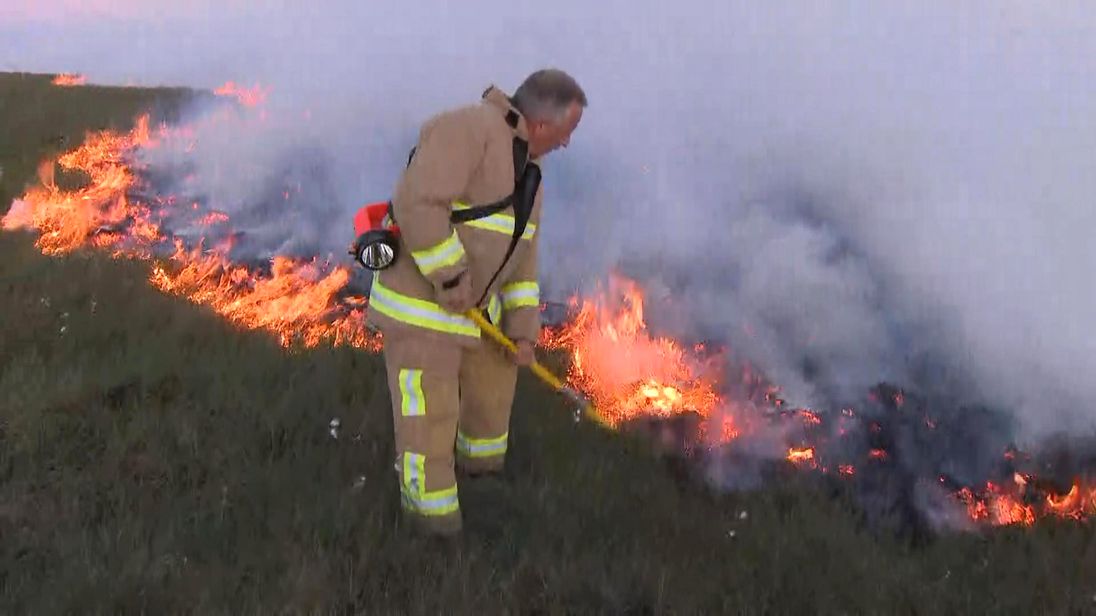 I love seeing the pictures people post of their gardens and would love to have a more space. We have a very small space but use it a lot. Through most of the year I like to dry my washing outside and we like to eat breakfast outside when we aren't working. Just relaxing with a good book is so enjoyable sat in the garden with the sound of bird song and the gentle buzz of bees. As I was watering the hanging baskets I took a couple of photos. The astilbe is looking good.
We usually have hanging baskets with bedding plants in them but this year I left them rather late to do so the plants haven't filled out completely yet.
This basket has some beautiful marigolds in it but I just love this lovely drift of trailing lobelia. The plants I bought were supposed to be mixed colours but they are mostly pink and purple.
The geranium in this one is a delightful pink and has lots of new buds growing up.
My fuschia is trying very hard to give a good display but the buds don't seem able to open at the same time. Trying to keep the plants alive in the heat is difficult and takes a lot of watering.
At the end of last year I baked this broccoli tart. Since then it has become a firm favourite and appears on the menu every two to three weeks. It's quick to make and serves 6 so Lucy will usually take a serving for her lunch the next day and John and I fight over the remaining slice. The recipe has walnut pieces on the top but we miss them out as Lucy is allergic to nuts. John had forgotten I wanted a photo and had started to share it out. This is a recipe I got from the Sainsbury's magazine and is available on their website here but since it is free on the internet I've also copied it below.
Ingredients
1 x 375g pack ready-rolled puff pastry

200g purple sprouting broccoli (or Tenderstem broccoli), woody stalks trimmed

250g ricotta

1 x 28g pack basil, leaves only, shredded

125g blue Stilton, crumbled

a handful of walnut pieces

½ tbsp clear honey


Preheat the oven to 220°C, fan 200°C, gas 7. Unroll the pastry sheet onto a baking tray (leaving it on its paper) and score a 1cm border around the edge. Prick within the border thoroughly with a fork; bake for 15 minutes until golden. Gently press the middle down to flatten.
Meanwhile, simmer the broccoli in boiling salted water for 3 minutes, until just tender, then drain – ideally, transfer it straight to a large bowl of iced water (this keeps the lovely green colour). Once drained, pat dry with kitchen towel.
In a bowl, mix together the ricotta, basil and half the Stilton and season with a little pepper. Spread the cheese mixture within the border of the tart, then top with the broccoli.
Scatter over the remaining Stilton and the walnuts, then drizzle with the honey. Bake for 10 minutes, until the pastry is crisp and the Stilton has melted. Serve hot or warm.
Today there will be a little hand stitching for about an hour before I go to bed but otherwise the nearest I've got to sewing was pre washing some cotton fabric that I'm going to use to make a dress. I don't usually pre wash my quilting fabrics as I love the crinkle effect that occurs when you wash the quilt. All I do is add one or two colour catcher sheets to the wash. With dress making it's different if using cotton because you are making it to fit a certain size and any shrinkage can mean that whatever has been made will be a little tight once it's been washed. The fabric has a pink background and it's a good job I added the colour catcher as the colour did run a little.
I'm working again tomorrow but then I have the rest of the week off as annual leave. John and I are going on a short break, just the two of us which will be fun. I'm sure there will be some good photo opportunities on the trip. Unfortunately I do have to work on Saturday as we have an open day and as a course leader I have to attend.
Roll on tomorrow evening when I can get my machine out for a couple of hours! For now I'm going to do some hand stitching.