When I opened Google yesterday morning I was very happy to see their Google Doodle which was celebrating Barbara Hepworth, an English sculpture. The doodle coincides with the anniversary of her moving to St Ives in Cornwall where she set up her studio and spent the main part of her career. I love her work and I've visited her studio and garden. The doodle led me down the rabbit hole as I had to go and look for images of her work. The picture below is of a piece of her work that is in the museum and sculpture garden in St Ives. You can find out more about Barbara Hepworth HERE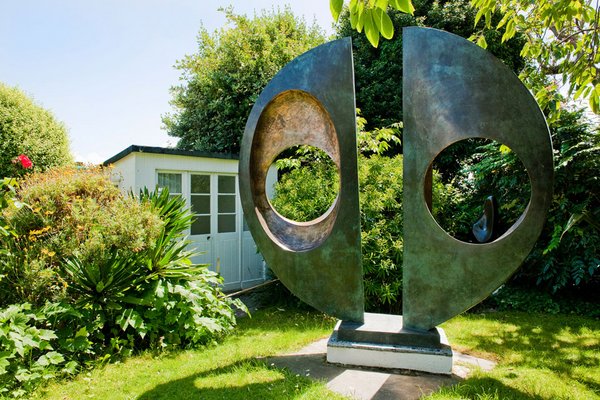 At the weekend John, Lucy and I drove to Suffolk to continue our walks. We had to rearrange the walk and make it a circular route as booking a taxi to take us back to our car proved impossible. Our walk was taking us along the river Orwell. Because it was a circular walk we spent a fair amount of time with no river view. This was our first view of the river looking over the hedge.
We were lucky with the weather as it kept going overcast but it didn't rain on us. At times the sun was out and it was hot. As we walked by the river we saw a lot of birds. Progress at this point was slow as John was busy looking through his binoculars spotting the different species.
The hedgerows had an abundance of rose hips. This had me thinking back to when I was a teenager and my younger brother was born. At the time it was routine that mother's were advised to give infants rose hip syrup to ensure they had sufficient vitamin C. I remember collecting rose hips and my mother making her own syrup . By the time I had my children this advice was no longer being given to new mothers.
Where we were walking the river was tidal and we spotted these trees that had been damaged by the salt water. They made the area rather eerie.
Along the route we came across this rope swing that had been set up. Lucy loves rope swings and this one had a seat so was very comfortable, rather than perching on a knot. The beach area was nice and sandy and Lucy also took the opportunity to have a paddle. We ate our lunch sat by the water.
During this walk we came across 3 barns. I loved this one and Lucy and I enjoyed making up a spooky story about it.
This one looks very modern having been upgraded to mostly brick.
The final barn was rather cute. There was a huge barn but there were some very strange noises coming from it so we walked quickly past.
We had parked our car at Stutton in what is now a water park and leisure area. As we turned into the driveway we found this sign.
Stutton Airfield became one of many landing grounds which existed in Britain during World War One for Royal Flying Corps (later Royal Air Force) Home Defence fighter operations. The airfield first opened in March 1917. I
t operated a variety of aircraft to combat the combined threats of Zeppelins and fixed-wing Gotha bombers threatening especially south-east England during this period.
When we are walking I've found that the mileage John gives us at the beginning of the walk is often less than the distance we actually walk, sometimes by a couple of miles. Lucy and I had started to tease John as we headed back to the car park but on this walk the mileage was spot on.
No sewing has taken place the last couple of days as work has been very busy. Today I have a chance to complete my monthly goal by finishing the quilting on the rainbow quilt. I'm also on leave tomorrow and I've promised myself a sewing day. I'm looking forward to reporting completion of my goal and other projects I'm working on.
Lyndsey